All of the more advanced and sophisticated optimization programs did not start that way. How they started and their path to awesomeness most certainly varied considerably. Despite these varying paths, there were key components of their foundations that were constants: scalable standardizations with risk mitigation, clear goals with alignment to organizational KPIs, and program visibility with accountability.
Those foundations have given these optimization programs the nimbleness to adjust to changes in organizational priorities, technology advancements (and deprecations), and the changing landscape of available opportunities. Without this agility in optimization program management, the path to awesomeness would not be possible.
At MiaProva, we get to see it all, the really good, the not-so-organized or focused, the up and coming, and the rockstars. No matter where their program is, MiaProva brings the foundation for any organization to find its own path to awesomeness.
Some of our advanced customers who have found their awesomeness are using MiaProva to advance their programs through Customer Journey Optimization further. Given the value they are realizing, we thought we would share what that looks like and the features in MiaProva that they are using.
Customer Journey Optimization is when organizations have optimization or testing roadmaps targeted to the different stages that their digital consumers are in with the goal to advance them to the next stage of the customer journey. For most organizations, A/B testing is often targeted to a specific location like a landing page or home page. With Customer Journey Optimization, A/B tests are running simultaneously to independent audiences tied to where they are in the journey.
The Path to Customer Journey Optimization
Historically, organizations often judged their program's sophistication by the test approach (A/B, Multivariate, Multi-Armed bandit, etc…) and the targeting they were applying to their tests. The large bubbles in the image below represent this mindset broken down by Value, Goals, Data Leveraged, and Opportunity.
Customer Journey Optimization is all about the Data Leveraged, centering your optimization program around your organization's 1st Party ID – your customer's obfuscated ID.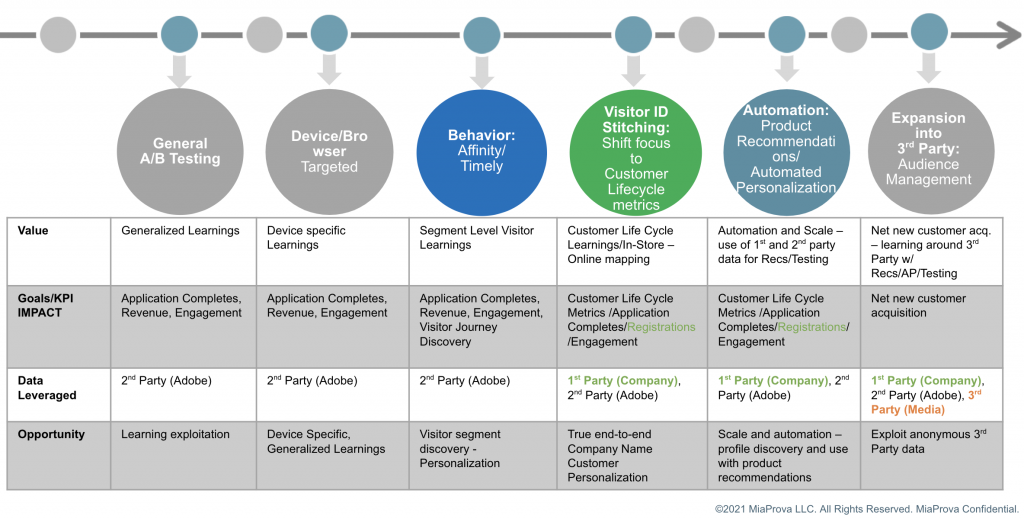 When organizations make this strategic shift and steer their testing efforts around getting an ID (Unknown to Known), they can start to build that relationship and advance them down Customer Journeys deepening that relationship.
In the image below, test types are just the tool to target personalizations and learn, through test results, the ideal personalization for those consumers at that stage.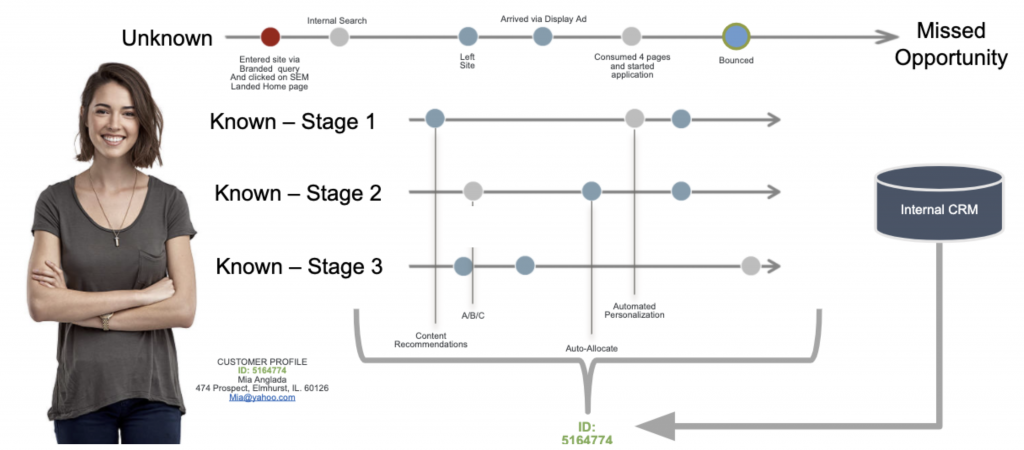 MiaProva and Customer Journey Optimization
MiaProva provides a variety of tools to allow organizations to adopt strategies like Customer Journey Optimization easily. The one feature that has been the most helpful according to our customers is our test management via our kanban board.
The image below is our kanban board in action. We have everything from idea prioritizations, test submissions, tests in development, live tests, and those awaiting analysis—a full view across the various stages.
In Red Box 1, we have the MiaProva Journeys that have been customized for Customer Journey Optimization. In Red box 2, we have tasks specific to those tickets, and in Red box 3, we have live data with metrics associated with that journey and test.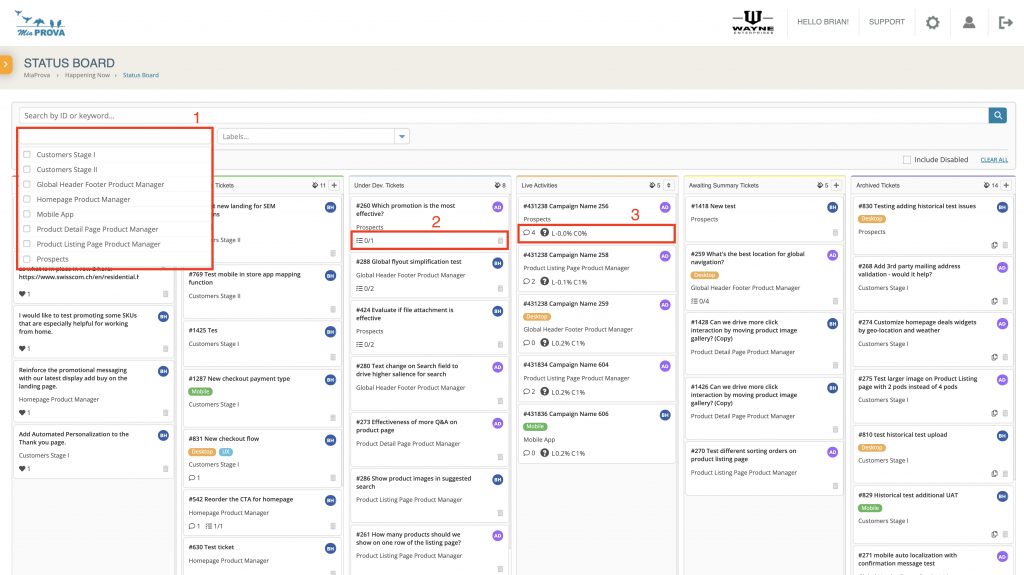 This video provides a nice overview of how the kanban works and how organizations are using it for program scale, accountability, and visibility.