Testing is not easy by any means. In fact, it is arguably quite challenging. Running and managing an optimization program is even harder. If you think about all that happens behind the scenes, it is pretty overwhelming.
MiaProva was established to make testing and program management easier. MiaProva brings automation, standardization, and a variety of tools that allow organizations to scale effectively and quickly. In fact, we have found that our customers, on average, have experienced a 30% increase in test throughput since adopting MiaProva.
Over the last few months, we have gotten some positive feedback about how MiaProva has been especially helpful during this new world that we all live in. All of our customers immediately found themselves working remotely (many for the first time) and they were just as busy if not more.
And now, the everyday challenges around testing and running optimization programs are additionally taxed with this new remote world. Especially tough given testing teams touch so many different parts of an organization.
MiaProva and how we help…
We thought we would highlight some of the utilities in MiaProva that have been especially helpful for organizations as of late and broadened the adoption of MiaProva beyond testing teams to the broader organization.
#1 – Communication
MiaProva keeps those that want to be in the know, in the know. As events related to the test happen, MiaProva will automatically send alerts via email and slack to key stakeholders.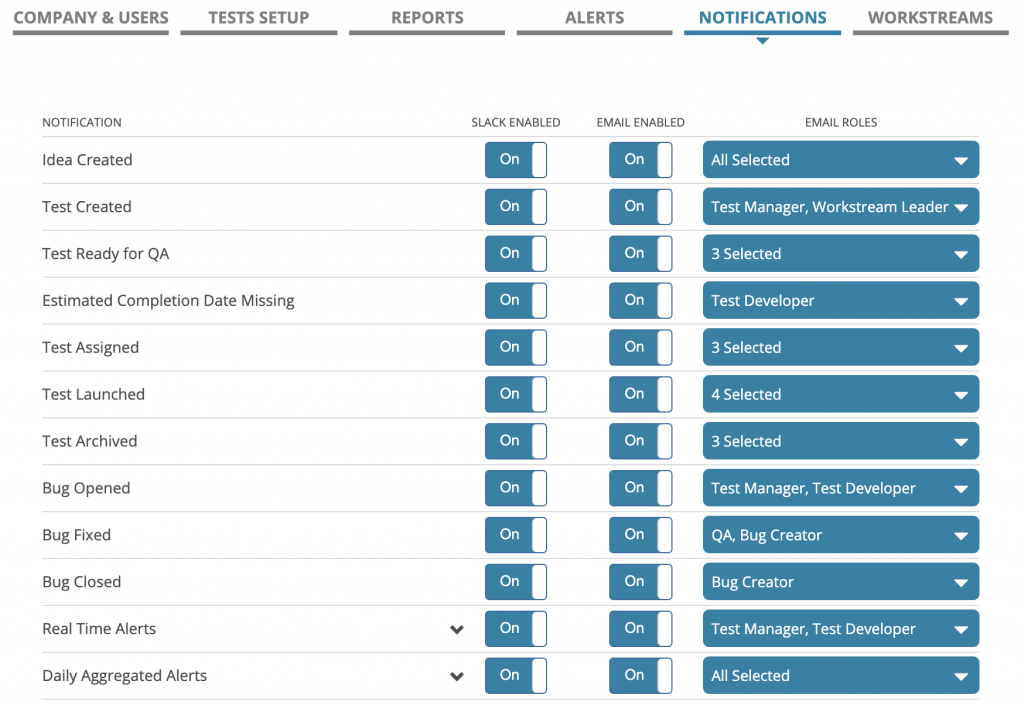 One of our clients shared that the automatic communication from MiaProva allowed them to cancel a weekly meeting that was used just to keep everyone up to speed on tests. MiaProva has become our conference room with centralized management of everything optimization, she added.
#2 – Security – Test Risk Mitigation
MiaProva provides a security service for all of your tests against any of your metrics in Adobe Target and Adobe Analytics. We also monitor and alert you to other key events such as issues related to the code you are using for your tests.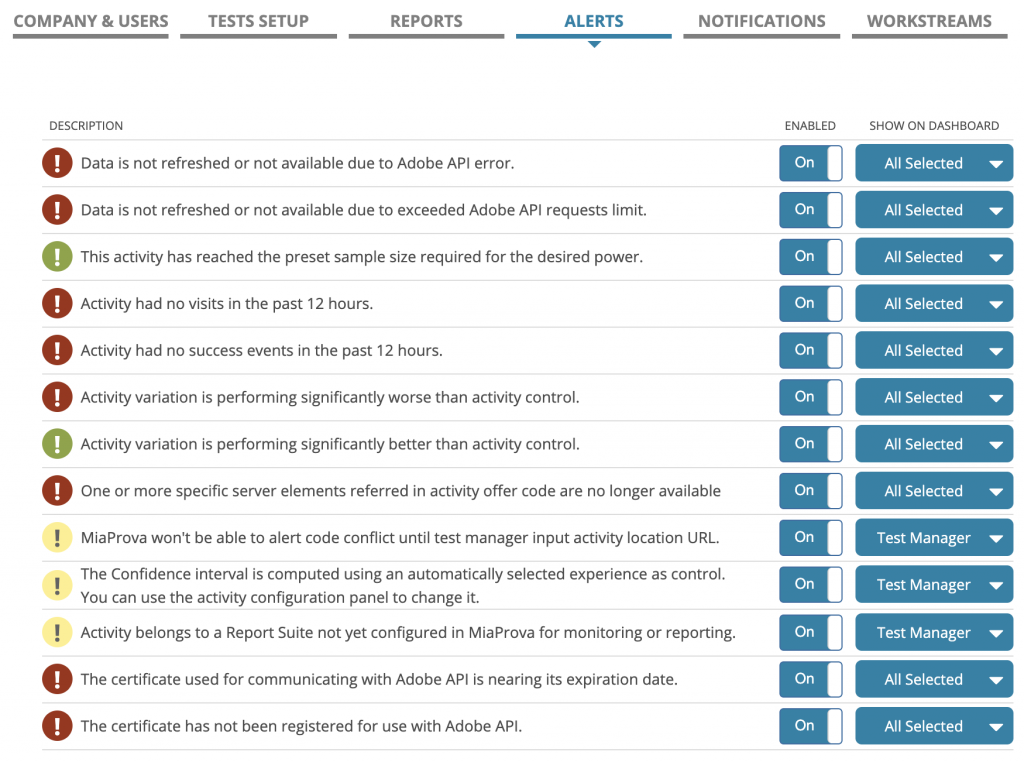 For those that leverage A4T, simply select in MiaProva, your key segments, metrics, and calculated metrics and we will monitor them all and provide daily updates over and above realtime alerts.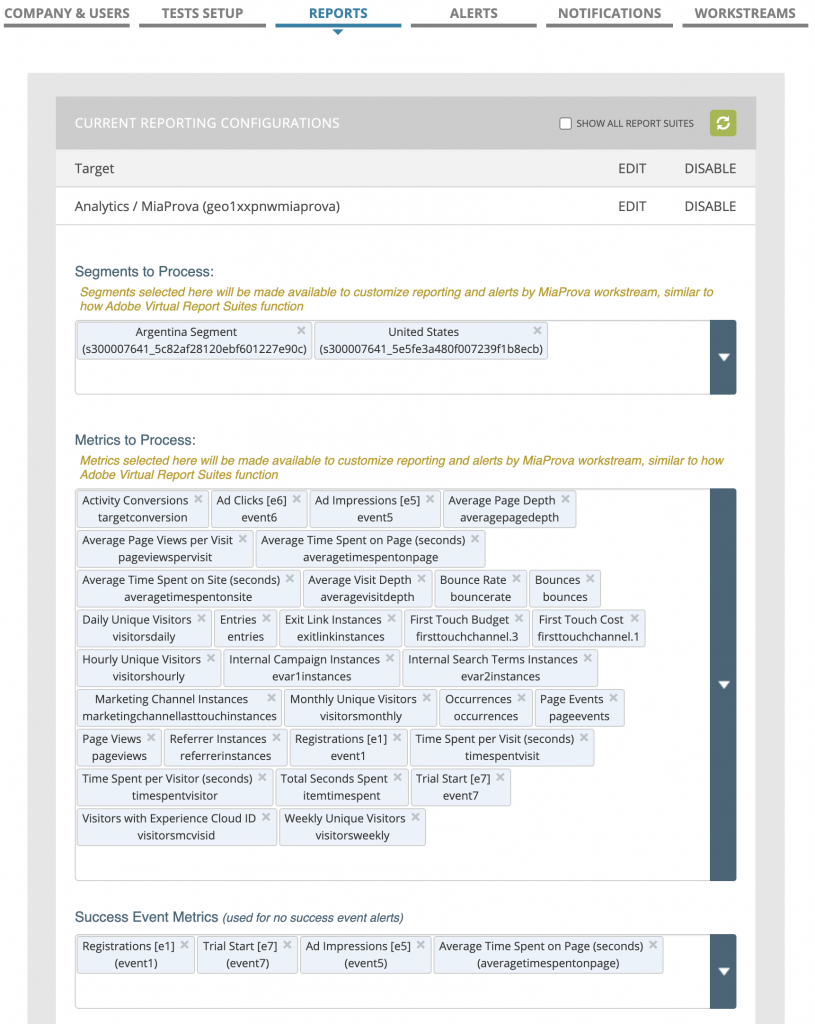 We have a number of great stories about this service saving the day for organizations. We had one client tell us that our monitoring prevented significant financial losses to their organization that would have gone unnoticed for days. Another client told us that a single alert that we sent late on a Friday saved them more than 12 years of MiaProva licensing costs.
#3 – Transparency – test interaction
Our chrome extension is wildly popular (used on average 15,000 times a day) and is completely free for anyone that uses Adobe Target. One of the reasons it is so popular is because of the visibility it provides not only into test interaction but also the Adobe Target Profile.
With many organizations democratizing testing, companies soon find themselves in situations where too many tests are running and overlapping with each other. We recognize that problem and built tools like our swim lane view and chrome extension that help expose these issues for organizations.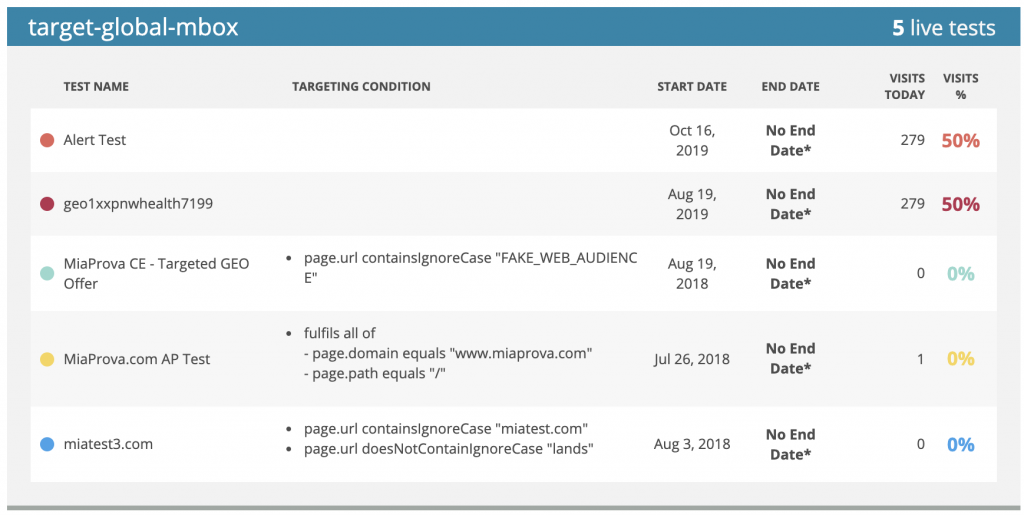 This report alerted one of our clients to a major issue. They were unaware of dozens of live tests getting significant traffic that they were unaware of. We have had several clients discover that audiences were overlapping as well and causing issues around test attribution.
#4 – Program Visibility
One of, if not, the biggest challenge organizations have with testing programs is visibility into where things are and the impact the program is making against their institutional metrics. Visibility was one of the primary reasons we built this platform and we solve for it nicely.
On your MiaProva dashboard, you are provided with a quick view of how many tests the program is doing month over month, your program win rate, and a view into where your tests are in terms of status.

We also highlight here the "Featured Test Story" (selectable via the Test Manager) as well as "Latest Happenings", a real-time and historical display of events related to your tests or your MiaProva tickets.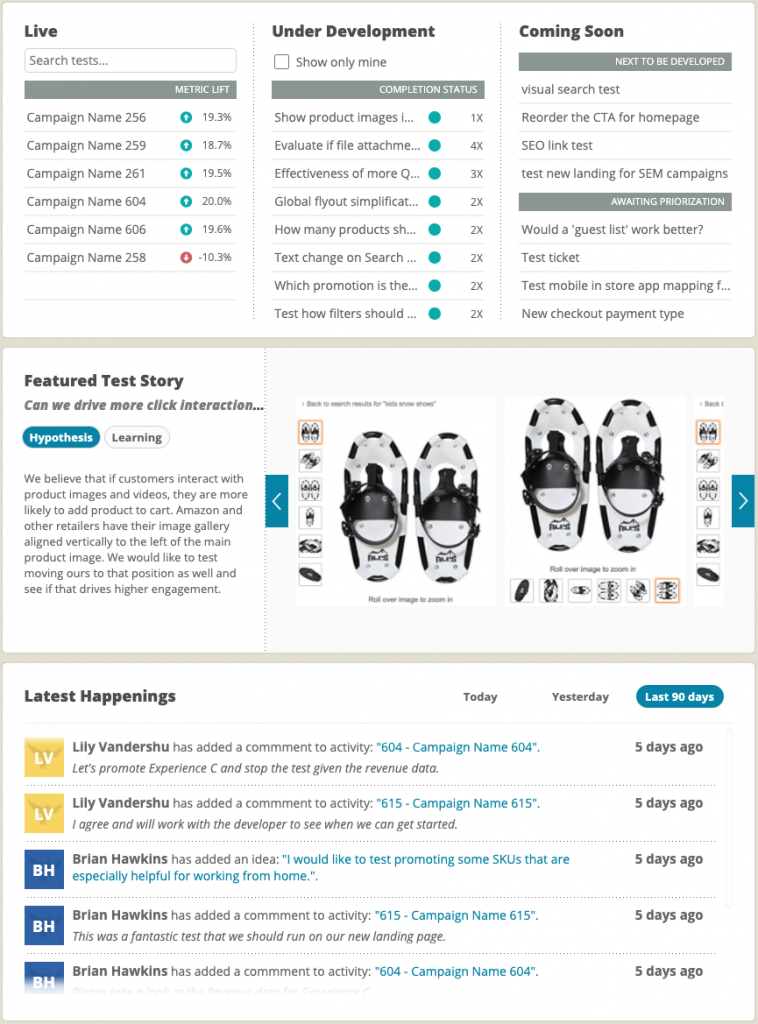 MiaProva's "Latest Happenings" are instrumental in helping remote teams stay up to speed on all the moving parts involved with tests. For larger programs or decentralized testing teams, this feature has aided in collaboration and in communication as end users can add comments to tests and tickets which also become part of the feed of events.
#5 – Centralized Knowledge library
The MiaProva knowledge library was the driving factor in starting MiaProva. To this day, many organizations struggle with this. MiaProva automatically curates the knowledge library by simply managing your tests through our process, which in and of itself, brings considerable efficiencies.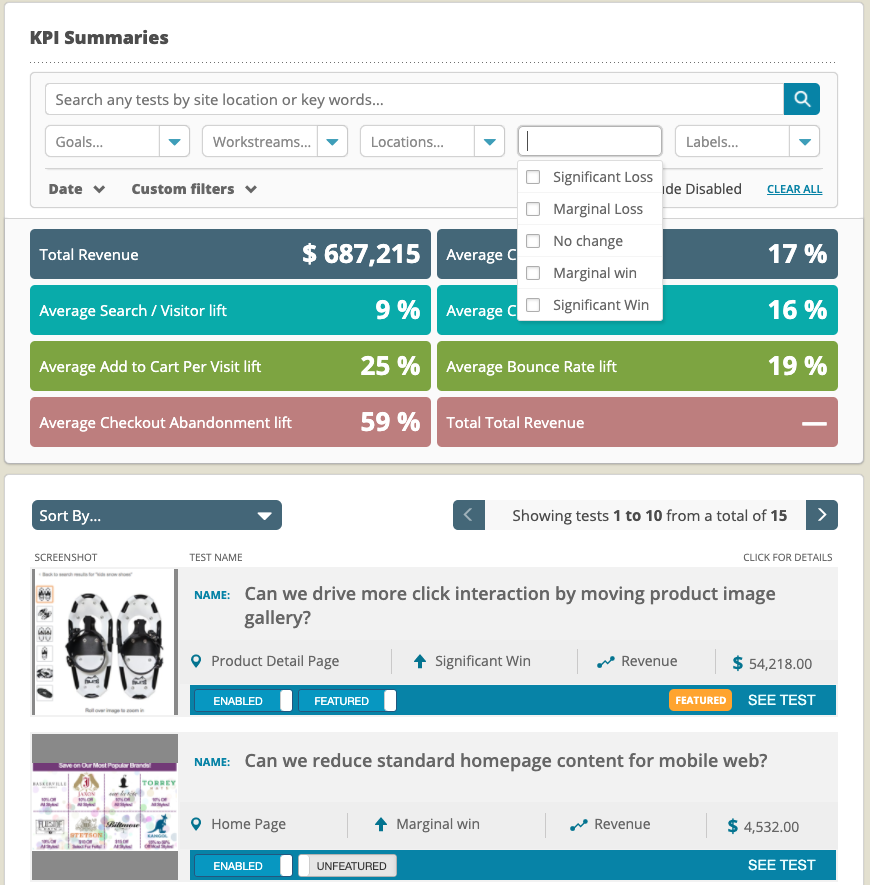 A centralized Knowledge Library allows remote teams, large organizations, and complex testing programs a quick and easy way to leverage prior learnings, avoid testing the same concept multiple times, and a mechanism for the organization to learn from the tests as well.
#6 – Live Dashboard
Our very popular Live Dashboard consolidates and standardizes reporting from multiple data sources (Adobe Target, A4T, Report Suites, Virtual Report Suites, internal testing tools, or other 3rd party testing solutions) into a single place. We highlight which tests have met preset sample sizes and enable filtering by Adobe data as well as any data or field used in your MiaProva ticket.
Our approach to the Live Dashboard is built around your test meta-data. We don't limit your ability to find tests by test name or test type. MiaProva Live Dashboard is completely customizable. For example, if one of your MiaProva ticket fields was "Product Manager", that field then becomes a filterable or default view which makes accessing tests incredibly easier if your large program has dozens or hundreds of live tests.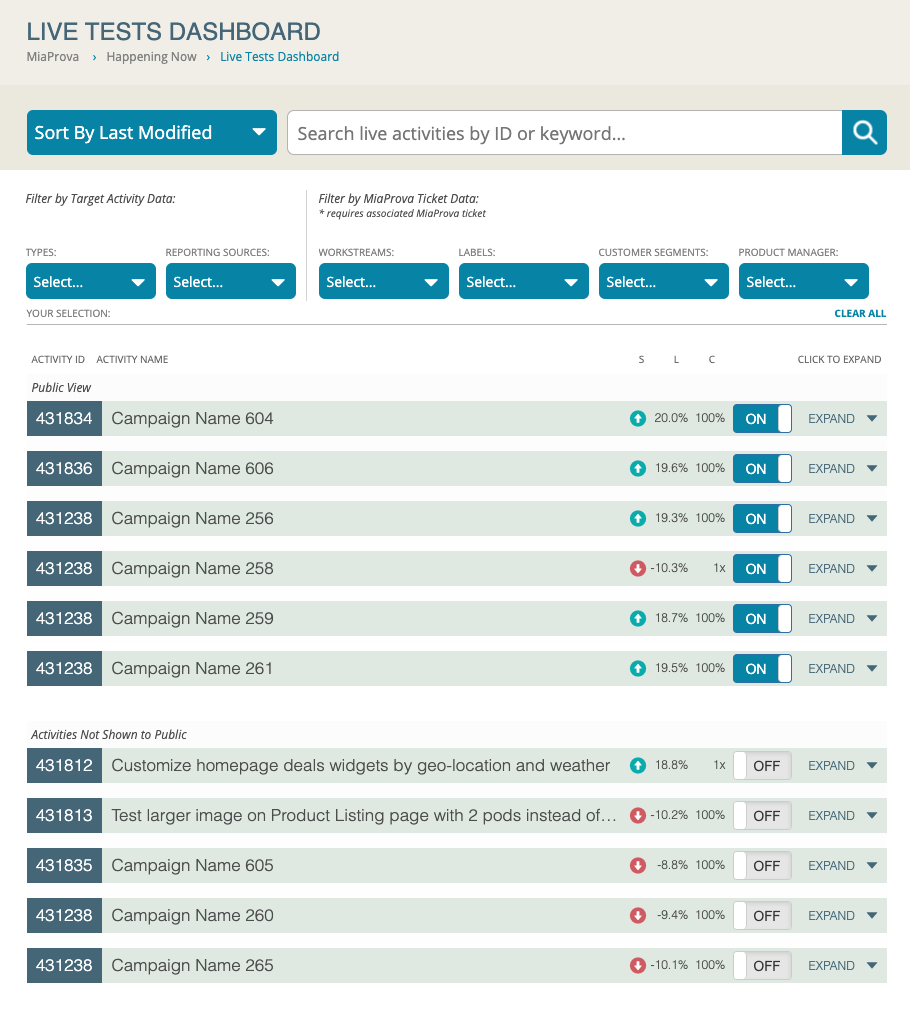 We also provide commenting capabilities in the context of test results – very helpful for many reasons but especially helpful for remote testing programs. This feature allows everyone in the broader organization to be part of the conversation, the ability to ask questions or get clarification on tests results. Comments added automatically trigger alerts and send emails to the test managers associated with the test.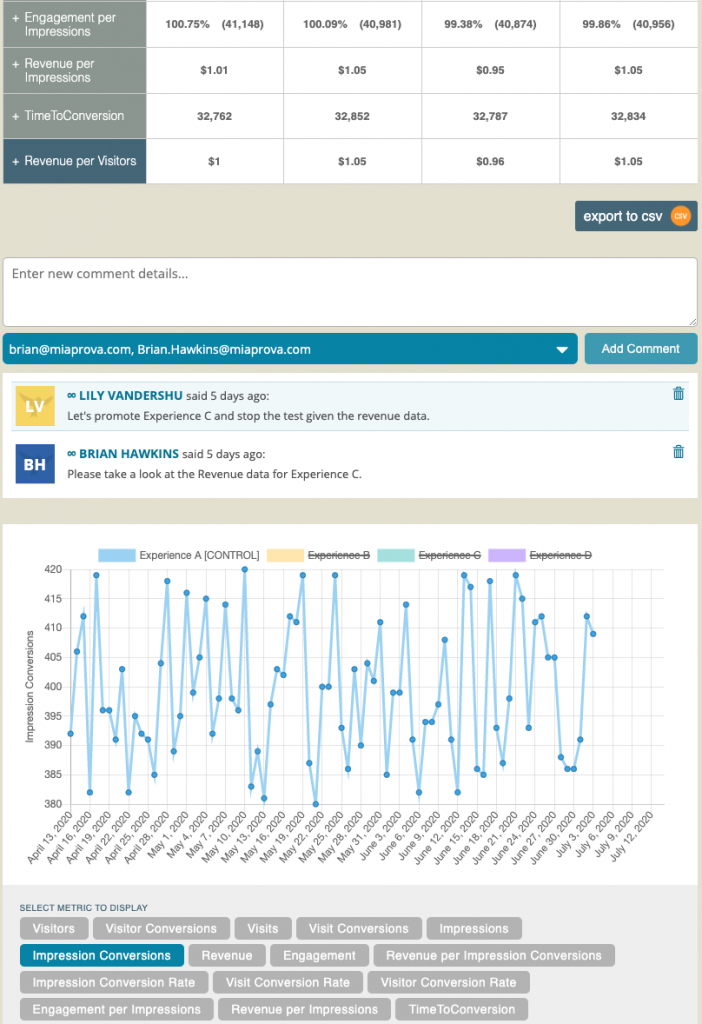 Many of our clients have expressed their appreciation of the MiaProva comments feature because it helps avoids countless emails, unnecessary meetings, and aligns key stake holders.
#7 – Crowdsourcing
Testing programs require significant input from the broader organization. This usually involves many meetings, emails, and conference calls to advance things along. Successful testing programs, incorporate crowdsourcing tools to bring efficiencies and to scale effectively.
We the increase of remote teams, crowdsourcing tools are now crucial for testing programs to be successful. MiaProva provides several tools to aid testing programs but the most helpful has been a mechanism to solicit test ideas as seen here: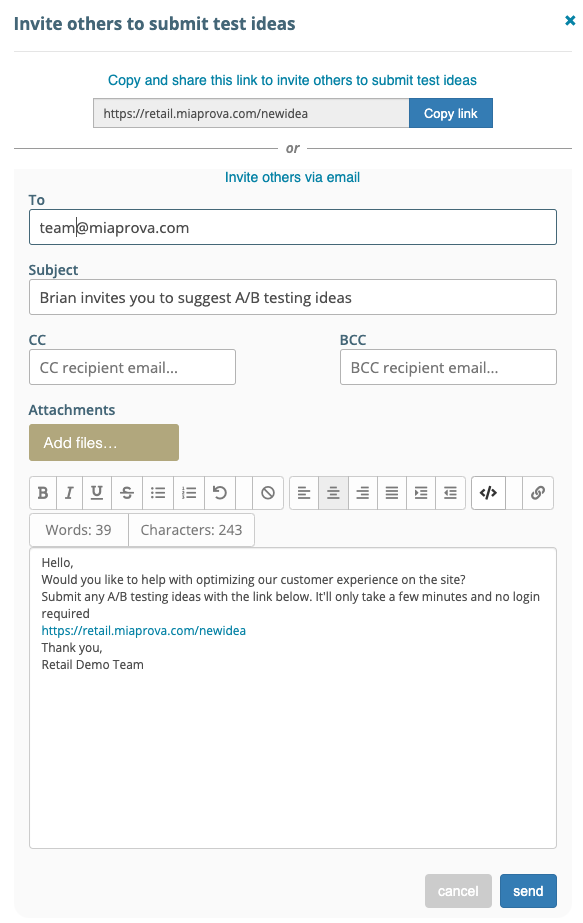 MiaProva is also heavily leveraged for crowdsourcing votes for test ideas and providing visibility and transparency around the testing process.
#8 – Standardization – A4T, Automated Personalization, Server-side, mobile iOS
If an organization is to be successful in instilling a culture of optimization, the testing program needs to standardize key processes related to testing.
Most organizations struggle with a common approach to test execution. Approaches often vary depending on team, test type, data, reporting, etc….
MiaProva solves this by standardizing and streamlining the approach to test management. No matter where you are testing, what reporting source you are using, or type of test – our model establishes an assembly line approach to test management.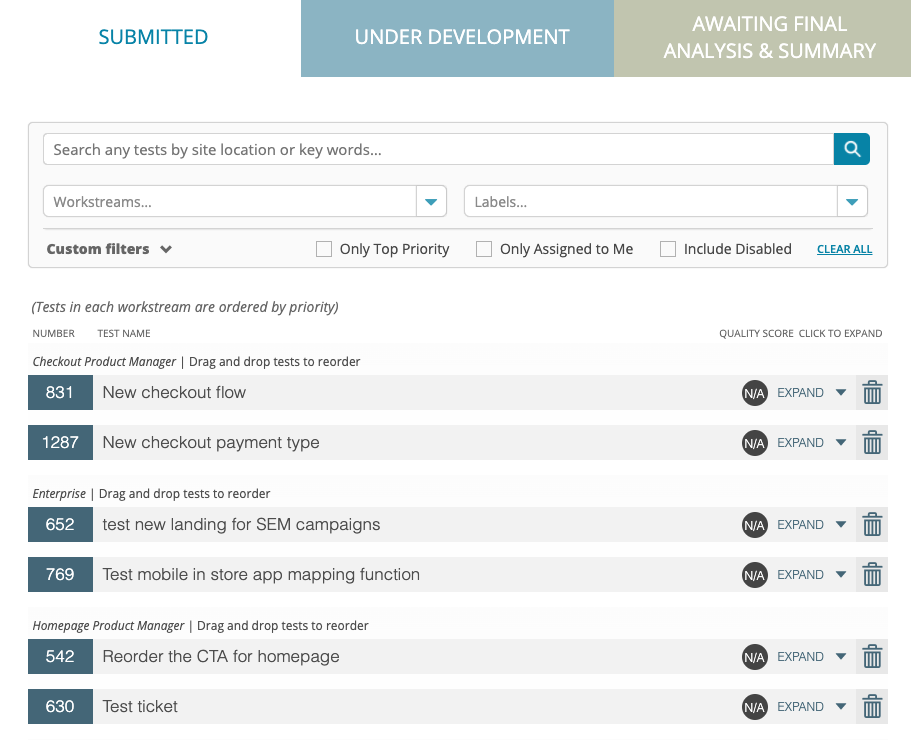 #9 – Reporting
MiaProva standardizes, simplifies, and consolidates test data from multiple sources.
MiaProva provides reporting for all of your live tests using any of your metrics in Adobe Target or Adobe Analytics. Simply specify your key metrics in MiaProva once and by way of our integration with Adobe and we will automatically report and monitor those metrics as they relate to all tests going forward.
Additionally, we realize that not all test data is available in Adobe or by way of API. Our test management process allows organizations the ability to consolidate this offline data to their test results.
For example, one of our financial customers has offline events related to loans that happens weeks after the test was turned off. MiaProva consolidates this data to the test results when it becomes available.
The outcome of our reporting management is our Program Overview. Here we aggregate all of the tests and their impact to key organization metrics – both online and off.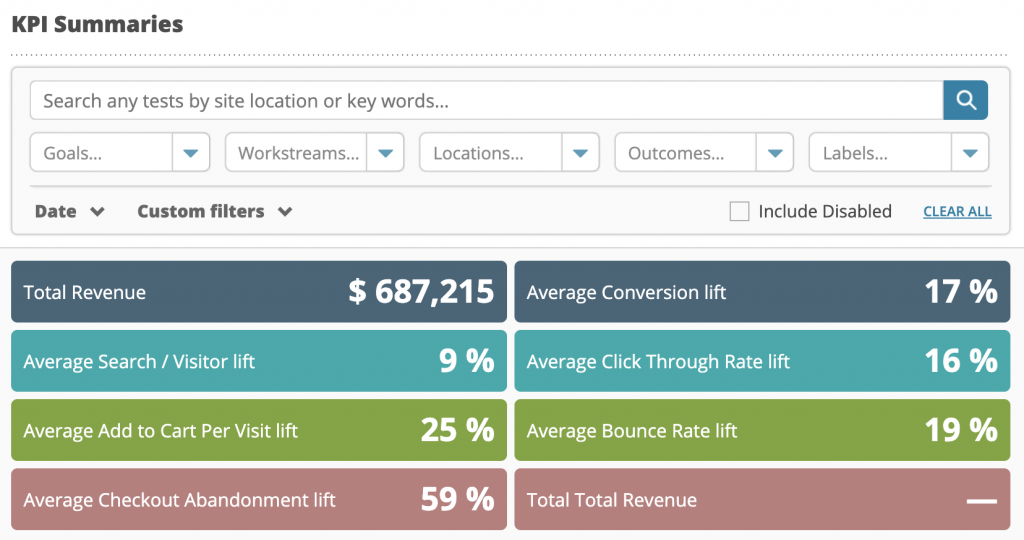 MiaProva's Program Overview is something is automatically curated and saves organizations countless hours aggregating and aligning metrics.
Our approach has allowed many of our customers to convey to Executives exactly the net impact they bring and to use that data to increase headcount, expand testing, and to advance their testing and personalization strategies.
Many of our clients leverage our Program Overview as part of their Quarterly/Annual Business Reviews (QBR).
#10 – Integrations with Adobe, Slack, and JIRA
MiaProva believes testing, testing solutions, and optimization management tools like MiaProva shouldn't live in a vacuum. Because of this, we've built our platform to integrate with other key solutions like JIRA and Slack given their importance to optimization programs.
MiaProva has a bidirectional integration with JIRA to import and export test tickets. Our popular integration with Slack is heavily used for alerting, live test results, and seeing where tests are in their development lifecycle.
MiaProva didn't sacrifice security to promote and support an open ecosystem. We are heavily used by some of the most secure organizations out there including many financial institutions around the world and that wouldn't be possible unless we adhere to very strict security protocols.