Throughout years of consulting, MiaProva founders understand key challenges facing companies from gaining the credibility to build a testing program from ground-up to scaling a mature program to even higher level. In this blog, let's see how MiaProva offers unparalleled solutions to address these common challenges:
Traffic control of large volume of tests
Lack of visibility into test prioritization & status
Business is unable to access real time reports of test performance
Labor intensive to create knowledge base of past test learnings
Quantify testing impact to organizational KPIs
Difficult to promote testing best practices in a large organization
---
MiaProva shows test experience & report in the context of your own web page
MiaProva's Chrome extension has 650+ active enterprise users!
Free offering:
Show all tests running on a specific page with offer details
One-click to turn off tests on the page and see default experience
See user real time profile to understand personalization
Research on any industry websites to see what tests they are running!
Premium offering:
See real time test performance report
Allow anyone in your company to submit test ideas within the page context
*2020 roadmap: render different test experiences on the page by a single click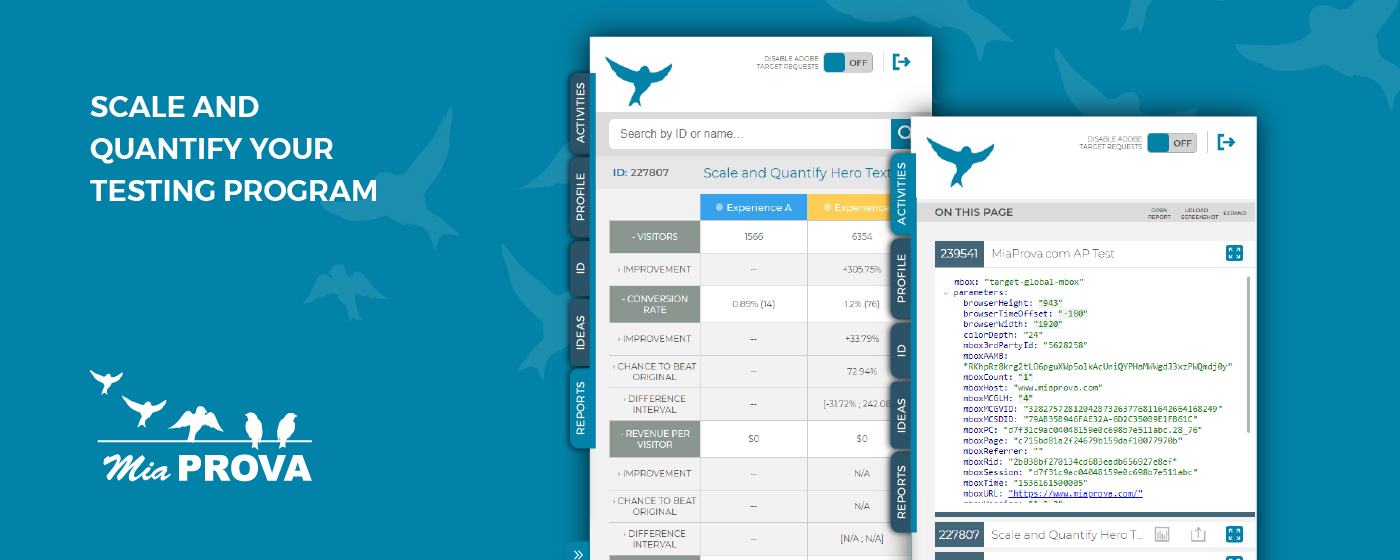 ---
Miaprova provides Automated Reports via Adobe I/O

No time to pull Target reports for everyone asking you how their test is doing, day in and day out? No problem! MiaProva pulls all Target and A4T reports automatically for you! In addition, any business users can self help by:
Slice & dice the reports by Audience Segment
Create any custom metrics from Target or Analytics
Show alerts when sample size are met & test version reached significance
Search or filter to find tests for a certain work stream or custom labels
Test managers can control who sees which reports
---
Integrated with Slack & Jira to super-charge existing program management tools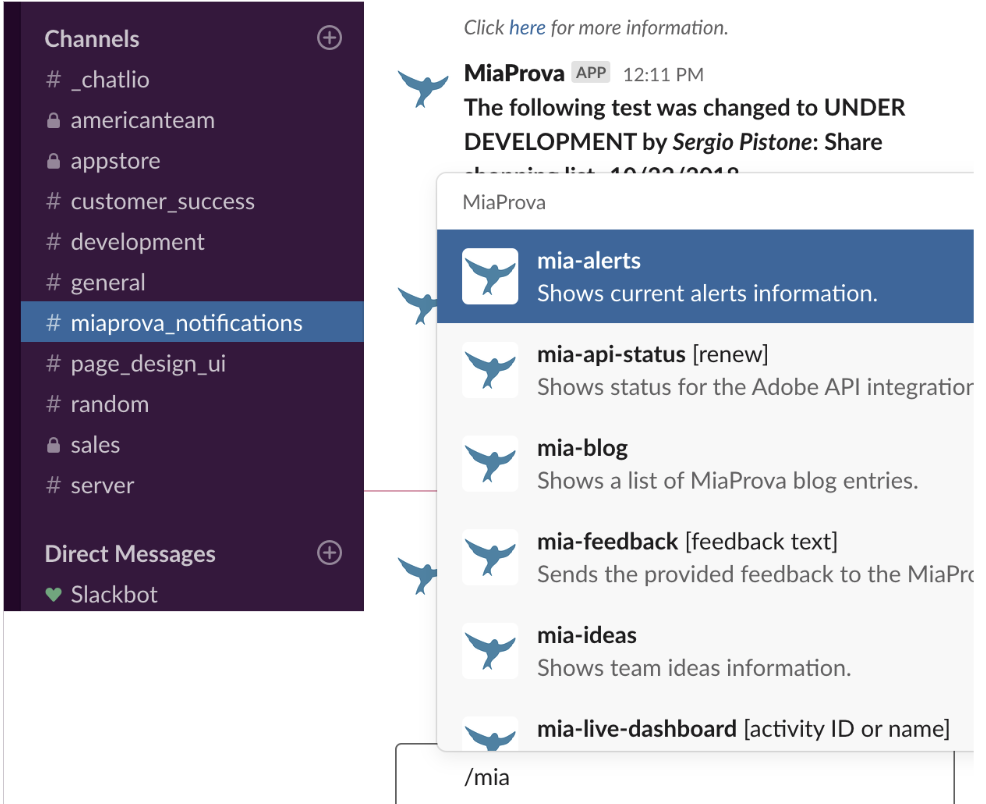 Love MiaProva's powerful ideation and reporting capability, but don't want to change your existing test management process in Jira? Our 'Fast Track' Workflow offers full integration with Jira so any update made there will automatically show up in MiaProva, and vice versa. You can get the best of both tools with no re-training or extra work!
In addition, MiaProva provides both push an pull integration with Slack. You can:
Subscribe to receive push notification on any test updates!
User can pull real time test report or see test ideas via a single command in Slack!
Anyone in your company can submit test ideas via Slack without MiaProva access
---
Documentation of past test learning – Done for you!
No one likes documentation.
Other tools might offer test library for learnings – but how much manual work would it take for you to create those documentation? Frequently, without dedicated resources, those pretty interfaces go unused and test results still scatter around email, powerpoint, etc.
MiaProva automatically creates 90% of the test summary content based on test requests and adobe report; Add your summary observation and any deep dive analysis as attachment and be done!

---
Test Managers are in the drivers seat, not us
MiaProva prides itself in enabling test managers to configure almost every part of the tool, so that you have full control over how report looks, what metrics/audience to import from Adobe, filters / labels to use, even to choose an entire work flow to best manage your testing tickets!
In addition, we provide hands-on, 1-1 training with any test managers to get started, following our quick-start guide!

Reach out for a demo and free 30-day trial to see all these features yourself!