We added something pretty significant to MiaProva this week. Activity Sources.
As you may know, MiaProva is the only Optimization Management Solution to integrate with Adobe Target and Adobe Analytics fully. Any Activity type or optimization effort in Adobe Target is fully available for management within MiaProva. Any of your Adobe Analytics Segments, Metrics, Calculated Metrics, Events, etc….are also fully available as well. We've expanded our deep integration with Adobe I/O to now give our users Activity Sources.
Activity Sources represent different sources for optimization or testing related events. Adobe Target is a wonderful example of an Activity Source, and now MiaProva has broadened Optimization Management to include any data from any dimension in Adobe Analytics.
At MiaProva, our most successful customers have shown us that:
Data collected and reported on should have more of an optimization focus with ROI and learning management
Considerable opportunities exist within Adobe Analytics to expand on optimization and personalization over and above Adobe Target
Organizations need a centralized platform to manage all of their optimization efforts along with the efforts that stem from their testing and optimization solution
Adobe Analytics Dimensions
Adobe Analytics provides organizations with 75 Props, 250 eVars, and 3 List Variables. These variables allow organizations to report and analyze any data that is associated with them. MiaProva now treats each of these as configuration sources for Optimization Related efforts.
These additional sources also inherit the same MiaProva benefits that Activities from Adobe Target get including:
Real-time and automated reporting
Custom alerting and notifications based on any conversion event in Adobe Analytics based on defined thresholds and confidence levels
Centralized management with any other source, including Adobe Target
Program Dashboards and ROI models
Automatic creation of a knowledge library
Collaboration and risk mitigation
And everything else available within MiaProva…
Given the limitless ways organizations can use their Adobe Analytics Variables, the opportunities to treat the data collected by them like optimization initiatives are essentially limitless. Here are a few examples to give you a sense of the power this Activity Sources feature enables:
All acquisition initiatives (SEM, Email, Affiliate, etc.….) – huge opportunities here!
Product Finding Method eVar
Form type if B2B
Custom feature flagging
Internal server-side testing
Loyal program management
Page Categories
Search
Custom multi-armed bandits
Other testing solutions
Looking to the future, as organizations adopt and make use of Adobe's Experience Platform (AEP), this Activity Sources capability by MiaProva will be even more valuable given the power AEP has to collect and manage data from many sources. We've built this capability for today with the future in mind, given the considerable opportunities that exist with Adobe's Journey Optimizer.
Configuration in MiaProva
Organizations can easily configure Activity Sources right within MiaProva's Admin Console as seen below.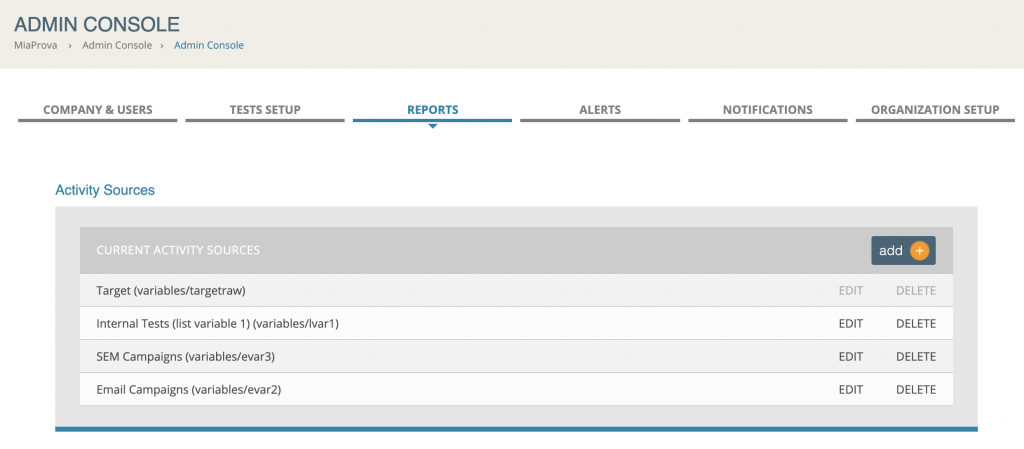 Here organizations can add any of their Adobe Analytics dimensions (eVars, list variables, sProps, etc…) as an Activity Source.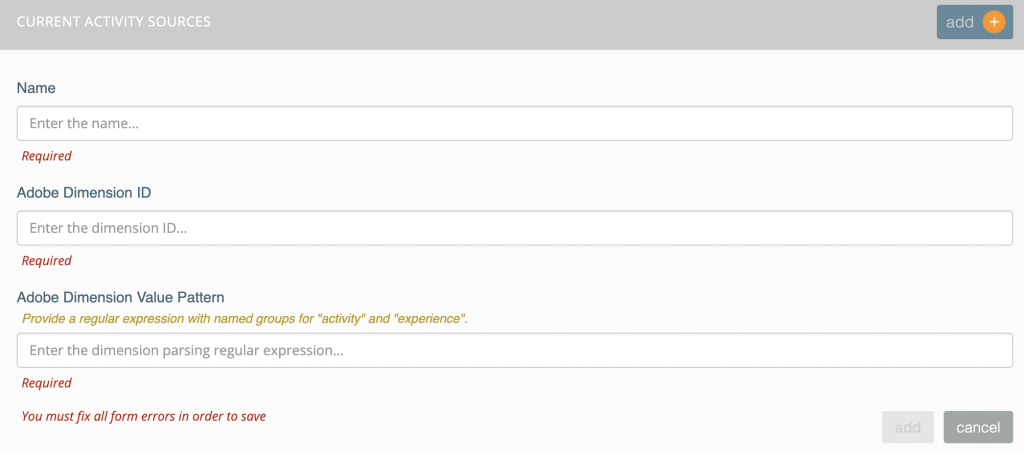 Simply provide a name, the dimension ID, and a value pattern and MiaProva will immediately take over and provide management of these sources along with your Adobe Target Activities!
Below highlights how one can Access or manage these different sources within MiaProva's Live Dashboard.