The other week, I had the pleasure of joining Adobe on a webinar to dive into Analytics for Target (A4T) and how it can be a powerful tool for optimization programs.
MiaProva makes very heavy and strategic use of A4T as part of our Optimization Management Application and within our Chrome Extension. Our customers that leverage A4T are realizing increased test throughput, visibility into metric and test interaction, and are gaining significant returns on their investments in optimization. We are also seeing our A4T customers adopt personalization and customer journey optimization at a much higher rate than our non-A4T customers.
In this webinar, we shared how some of the MiaProva magic can be leveraged right within Analytics Workspace because of A4T!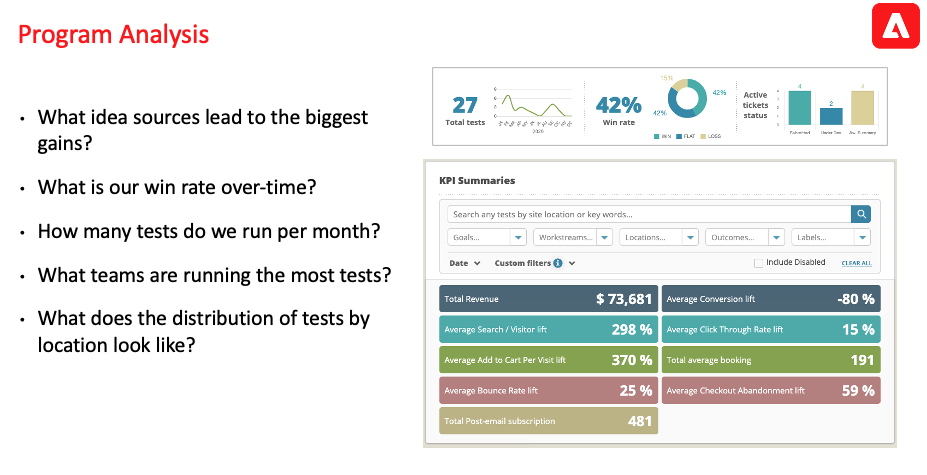 Here is what to expect as part of the agenda:
A small case study on how organizations can leverage Segments from Adobe Analytics to empower Automation within Adobe Target. Specifically, we looked at Adobe Target Insights Reports across 4 different organizations. We looked at the traffic volume, lift, and what data the models were focusing on. We then highlighted how some organizations that took the time to create and share segments from Analytics they deemed to be of value, resulted in the AI models in Adobe Target to automate at a quicker rate and identity what visitor attributes were key to making that happen.
MiaProva magic and the efficiencies of scale. Here was showed how A4T introduces mechanisms to allow the organization to align around metrics and audiences in a manner that is not possible in a standalone optimization or personalization solution.
Macro-analysis of Optimization programs. A4T enables organizations to not only examine specific or a group of activities from Adobe Target but also enables aggregate analysis of the program as a whole and whether you are making full use of Adobe Target
And lastly, we close things with a case study of how an organization made strategic use of A4T to analyze a highly visible series of Category Affinity Activities taking place. This organization learned many interesting things but the most valuable component of the learnings was taking a key audience that partook in those Activities and shared them back to Adobe Target via a segment for a more personalized experience.
We also shared a series of action items or tips that you can use to familiarize yourself with A4T and how it can be of value to your optimization and personalization efforts.